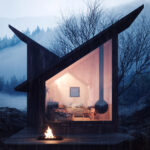 Italian architects Massimo Gnocchi and Paolo Danesi designed Mountain Refuge as a prefabricated cabin-style micro-home built from plywood.
The duo has founded a startup company to find a partner to make their prefabricated concept a reality
Gnocchi and Danesi designed Mountain Refuge as a contemporary twist on typical cabin typology that would help the occupants find a "connection with nature".
Mountain Refuge is modular, so the design could stand alone as one 24-metre-square space, or include an optional second module to add 12 square metres of floor space.
The cabin has space for a kitchenette with a sink and stove, and could also feature a small but comfortable bathroom with a shower tucked away in one corner.
A deck could run around the external perimeter of the cabin to give its occupants a place to enjoy the weather.
Gnocchi and Danesi designed Mountain Refuge to not require foundations, but if the site required, a thin concrete slab could be used for some locations.
source: dezeen